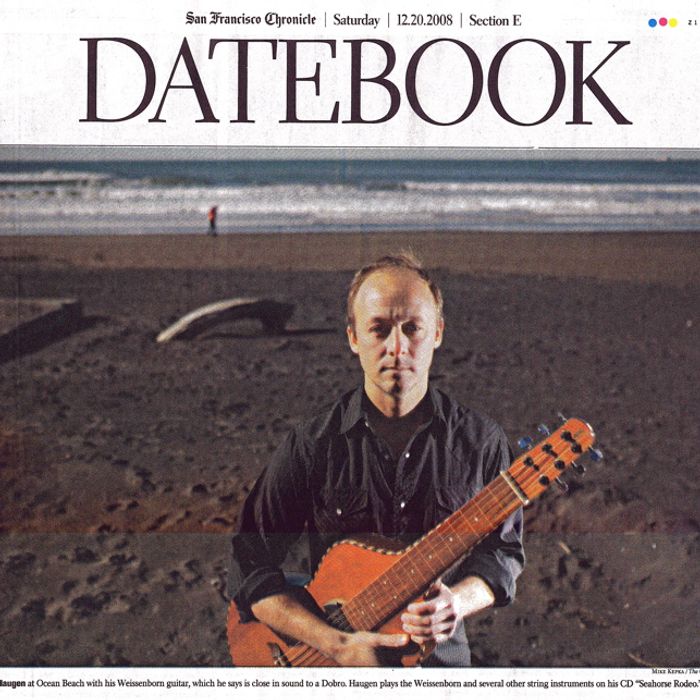 SF Chronicle
Datebook feature
When a musician who has worn many hats throughout his career finally finds the right one, it can be an emotional experience. Chris Haugen, a talented lap steel guitarist with cobalt blue eyes, knows he's found it with his CD "Seahorse Rodeo," and when he tries to define the moment, his gaze falters a bit.
"I think the music is like a deep ocean current with a thin veneer of Oklahoma charm," says Haugen, who lives in San Francisco's Noe Valley neighborhood.
The 12 gently rolling songs have elements of bluegrass, funk, country, samba and classical, but they can't be categorized. It could be a soundtrack album, but someone else will have to make the movie. Haugen and two of his sidemen, bassist Mike Sugar and drummer Matt Butler, with help from a couple of other Haugen compatriots, mandolinist Michael Kang and guitarist Dan Lebowitz, will perform the CD on Sunday night at Berkeley's Ashkenaz.
Those names may be familiar to people who follow the jam-band scene. Kang is a member of the String Cheese Incident, Lebowitz is in ALO, and Haugen, Sugar and Butler were founders of Jambay. After Haugen's set at Ashkenaz, they'll all do their jam-band thing with a bunch of other musicians in the Everyone Orchestra, but don't expect free-form wildness during the "Seahorse Rodeo" performance. Free-form wildness is not the hat Haugen wears anymore. Mark de Gli Antoni, the keyboardist-composer who was in Soul Coughing and is currently touring with David Byrne and Brian Eno, provides Mellotron samples on a few "Seahorse Rodeo" cuts.
Obsessed with guitar
"What makes Chris an interesting musician to me is his natural blend between jam and song," Antoni says in an e-mail. "Many players fall on either side of the divide. Chris (integrates) both qualities in a real qualitative way. He's a craftsman, a kind of builder/shaper of music."
Haugen grew up in Eugene, Ore., obsessed with the guitar.
"I would listen to (pioneering jazz guitarist) Wes Montgomery solos and sing them to myself," he says. He formed a band in high school with Butler, and the two went to college at UC San Diego, where they formed Jambay along with Sugar and a ferocious guitarist from Berkeley named Shelley Doty.
"We rented a house together, put carpet padding all over the walls and played music literally five or 10 hours a day," Haugen says. "When someone had to go to class, the rest of us would keep jamming. We went on the road shortly after that." Jambay was popular on the college and festival circuit from 1990 to '98, with Haugen sharing singing and songwriting duties in addition to playing guitar.
Ken Kesey became a fan
One of Jambay's gigs occurred during a picnic thrown by Eugene resident Ken Kesey. "We heard about it through the grapevine and went out to his ranch and just started playing spontaneously," Haugen says. "He just fell in love with the band. He immediately hired us to travel and play live along with his play 'Twister.' So we stayed out at his ranch for a summer in '96 and rehearsed the play, then went on the road with it."
After Jambay split up, Kesey summoned Haugen to participate in another adventure, touring a play called "Where's Merlin" around England and Ireland. "We would go around to these hot spots like Stonehenge and Tintagel Castle and Giant's Causeway, all these places that have some sort of mystical history," Haugen says. "We would interview local mystics and have them get involved with the play and just figure out what Merlin was and what he did and what his powers were and if it exists today. ... And I think it does. It exists in music. Music is a very powerful form of alchemy."
With the jammy-flowy-groovy-trippy rituals behind him by 2000, Haugen got serious about the music business, and several hats were ready to be put on. He auditioned and won a long-term gig as guitarist in former Jerry Garcia Band keyboardist Melvin Seal's group, then started playing with New Orleans singer Theresa Andersson. He did dates with Bay Area artists Larkin Gayl, Jerry Hannan and Steve Kimock. He worked with Taj Mahal, J.J. Cale, Maria Muldaur, Charlie Musselwhite, Les Claypool and many others.
Though Haugen had dabbled with pedal steel guitar in Jambay, he didn't really fall in love with lap steel instruments until he heard David Lindley play a Weissenborn guitar, which Haugen says is closest in sound to a Dobro.
"But the Dobro sounds so bluegrassy. When I heard the Weissenborn, it had this open, woody sound, and I just loved it. I found my voice on it." The Weissenborn is one of the reasons "Seahorse Rodeo" sounds so haunting and otherworldly, like a time capsule from a lost kingdom, perhaps Atlantis.
- David Rubien/Chronicle Staff Writer